My favorite part of clinical experience so far is definitely the relationships I have been able to make. I have made some great relationships with my preceptors, and I believe that has influenced how comfortable I am in the clinical setting. Being comfortable with my preceptors has made it easier for me to learn and ask questions. Additionally, I have been able to make some really good friendships with the athletes that I am around on a weekly basis in clinical. This has made it easier for me to help treat them, and in relation it has made it easier on the athletes to be more comfortable and relaxed when I am treating them in the clinical setting. I believe that a good environment makes the AT clinic a much more effective place.

Outside of the AT world, these relationships are special to me because I love people and investing into them as much as possible. I believe that one of my main purposes here is to create relationships with others, so that makes this major perfect for what I enjoy. I have learned so much not only about athletic training, but also about communicating with others and putting myself in others' shoes. The clinical setting requires that the AT's and AT students try to understand what the athlete is experiencing, which is a skill that I will be able to translate into other areas of my life to better my communicating skills with others. Overall, I have enjoyed so much about clinical experience, but the people I am surrounded with is my favorite part.

Powered by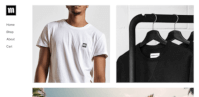 Create your own unique website with customizable templates.