This week, I was able to design a rehab day with a football player who is six months post-op from his ACL reconstruction surgery. He was cleared to start cutting this week, but was still struggling with feeling unstable on his affected leg. We began rehab with a warm up on the stationary bike, and then we took out the ladder. I wanted to get his heart rate elevated and perform movements that would prepare him for the cutting movements he would be performing later in the rehab. Additionally, I wanted to take advantage of this time to get him moving while also making him think about his movements. I had him start by doing four sets of each exercise starting with two feet in each block for speed. Then we moved into lateral movements for four sets, and then we started doing cutting like movements. He performed 4 sets of ickey, then we moved onto doing two ickey steps forward then one backward. He seemed to have considerable trouble with these exercise, not because of the physicality of it, but because of the mental portion of the exercise. I would like to see exercises like that incorporated into his rehab more often to help prepare him mentally for coming back to play. We ended the ladder with a backwards ickey.
​

After the ladder, I wanted to work on glute activation before moving into running. I had him perform 2 down and back duck walk with two black mini bands. He has done this often, but this time I asked him to walk forward on the way down, and then walk backwards on the way back. I wanted to make sure that it was targeting different parts of the glutes with each movement. He gave me positive feedback that it was challenging and that he felt it in a different place than just when moving forward. After that, we moved our session to outside. He explained that he had trouble with adding additional, non-necessary movements when he was cutting while running, so we tried to focus on correct mechanics for the majority of the rest of the session. We started with slow running and cutting to ensure that he felt comfortable, then increased the speed. He consistently performed much better as the speed increased, which I believed allowed him to stop overthinking so much about what he was doing and just performed. Overall, I think it was a successful rehab where he was challenged without overdoing it. I felt more confident pushing him a little harder than I usually feel comfortable with, so I'm learning the correct level of how much to push someone and when to lay off.
Powered by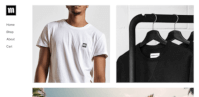 Create your own unique website with customizable templates.