​My rotation at the outpatient rehab clinic with Matt Harris was very beneficial for me. I want to be a pediatric physical therapist, but have never been able to observe a physical therapist. I was uncertain about how I would feel about working with the geriatric community, but this rotation has proved to me that I would not mind it at all. The first patient that I was able to observe at the rehab clinic was an elderly man who was having trouble walking due to his long hospitalization. For his rehab session, we walked with the man around the clinic when he first arrived and made our way to the parallel bars. This was where he just used the bas for support instead of his walker and just worked on taking big steps instead of the smaller ones that he was talking. After many sets of that, he began swinging his leg from adduction into abduction while supporting himself on the bars. He had a lot of trouble with his left hip during this exercise. To end his session, Matt stretched his hamstrings and hip flexors and then ended with joint mobilization in his hips. It was very interesting to look at this rehab compared to the rehabs that we perform in the AT clinic because we are much more aggressive with rehab in the clinic. It opened my eyes to just how different the rehab process in with different populations of people.

While at the rehab clinic, I also got to see Matt meet a patient for the first time and evaluate her. She was having burning, tingling, and pain in her biceps. It was a good experience to watch him conduct his evaluation because I realized that it is the exact same way that we have learned to conduct an evaluation. By the end of the evaluation, I had guessed that she was experiencing biceps tendinitis and/or shoulder impingement, which ended up being what he had diagnosed her with. It was encouraging for me to know that I am on the right track to establishing a sound foundation for what I want to do in the future. It also gave me clarity that I was learning what was expected of me.

I was at the Outpatient Physical therapy first on January 31, from 10:00am – 12:00pm, February 1, from 2:45pm – 4:30pm, February 2, from 10:30 am – 11:35pm and from 1:30pm – 2:45pm.

Powered by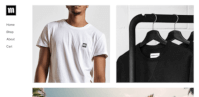 Create your own unique website with customizable templates.