This past week an athlete came into the clinic complaining of sharp back pain after a lifting session and a shuttle run. Laura and I were the students in the clinic and Melissa gave us the opportunity to perform the initial evaluation. Laura and I were both skeptically at first about doing this particularly evaluation because both of us felt a little uneasy about the lumbar spine. Soon into the evaluation, we saw that it was most likely a hip condition that was referring pain into his lower back. This suspicion would have been more evident in the beginning of the evaluation; however, the athlete left out a key event in the progression of his injury. He explained that the pain first presented during front squats in the gym, but then worsened during the shuttle run once he bent down to touch the line. Halfway into the objective portion of the evaluation, the athlete revealed that he also fell during the shuttle run which is what actually caused the onset of his sharp pain. This piece of the history then lead me to suspect an up-slip of his left pelvis. After further testing using the Long-sitting test, the standing flexion test, and Gillet's test, my suspicion was confirmed. His hips were then realigned with instructions from Melissa which alleviated much of his sharp pain leaving mostly soreness afterwards. We then applied STIM and ice to help with his pain, and instructed him to come back the next day.
This was an awesome moment to have, especially just coming back from break. It was encouraging to be able to put to use the information that I have learned, but have not been able to practice on an actual incident. During the moment it was tempting to run to Melissa when we were stumped, but I believe it was more beneficial for us to work it out on our own. When listening to how this athlete described his pain, I used my own personal experiences to relate to him. The pain he was describing sounded very similar to the pain I feel when my hips are out of alignment. Because I had experienced something similar to him, it was easy to be empathetic to what he was feeling and experiencing. This occurrence helped me work toward my goal of improving my evaluation skills. Unfortunately, I did not get to perform as many evaluations as I would have liked this semester, so it was great to be able to perform one so early in the semester. In the future, I will attempt to make it known to the athlete that every piece of the injury's history is important. This will hopefully save me and the athlete time and it will help avoid unnecessary special tests.
This week I have had eleven attempts in my clinical book. They consist of ROM and MMT of the cervical spine during upper and a variation of the McConnell tape on a basketball player.
Powered by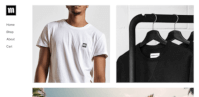 Create your own unique website with customizable templates.