This week, I got to evaluate my first patient at the PT clinic. The patient was a 17 year old male soccer player who had a history of hip pain. He had been to the clinic once before for rehab on his ankles; however, hip pain was never mentioned. The patient claimed to have hurt it last spring when he was in season for his high school team, but never saw his athletic trainer or took time to recover. He said that he "just played through it". He found that the only thing that helped the pain after his high school season ended was to rest. Unfortunately, each time he would try to practice after that, he would experience the pain again. He is taking some time off from his club season because of the pain in his hip/groin area. The patient stated that he feels the pain when he does a deep squat, sprints, walks up stairs, does "over the gate" stretches, and spreads his legs apart as if he were in a butterfly stretch. After completing an initial evaluation, I spoke to Matt and suspected hip flexor tendinitis. He confirmed my diagnosis and we began looking at treatment options. I was able to decide what stretches he took home to do, and the stretches and treatment he had done that day. Additionally, Matt let me decide his treatment for his following visit (with his guidance, of course).
I think that his experience really helped me find my footing in the PT clinic. Thus far, I have felt somewhat uneasy while clinically experiencing at my off-site. I do not feel like it is because of the atmosphere or the people, but because of the difference in populations from the PT clinic to the AT clinic. With that being said, I felt much more confident with this patient though, most likely because of his age and that he is an athlete. I believe this helped towards one of my goals because I have been able to work on rehab progressions. This patient was a good stepping stone into the PT clinic because it was somewhat in my comfort zone, but my limits were still pushed by having to think about how to progress his rehab. Overall, I feel like it was a beneficial step in my learning journey that I can use in the future to gage my progress as I move forward in the PT clinic.
​

This week I only had one attempt to put in my clinical packet, unfortunately.
Powered by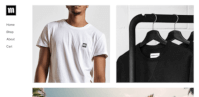 Create your own unique website with customizable templates.