The athletic training field proves to be an unpredictable job. There is not one day that is guaranteed to be the same as the next. I love going into clinical experience and not knowing what will happen that day. Additionally, I get extremely excited about the opportunity to invest into other people. Being an ATS has given me the capability to create relationships that I never would have otherwise. The ministry that can be used in this field is not one to take lightly. Just by talking with athletes at my clinical site, I have been able to talk to many people about what they believe, and some have even admitted how eager they were to join a Bible study. The combination of the unpredictability and the opportunity to create relationships and invest into others is the perfect environment for me.

I believe that I will be a good AT because I honestly enjoy helping people, not only in the AT clinic, but also in everyday life. I also enjoy the material that one needs to know to be an athletic trainer, and I am determined to know it to the best of my ability. Whenever I get placed at a new clinical site, the first thing that I try to do is learn about each player, including any injuries or pains that each one has, learn about the sport that I am placed with, and try to get an understanding of how each player operates. However challenging this may be sometimes, I love doing it because I know that it will make me better as an athletic training student, and it will help the athlete. The interest that I take in the athletes will contribute to what will make me a good athletic training student, and one day a good athletic trainer.

Powered by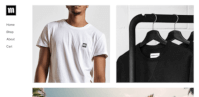 Create your own unique website with customizable templates.