The reason that I appreciate athletic training so much is because of the holistic approach to the care that is provided. I believe that knowing the athlete before the injury is a major cause of the feeling to provide holistic care. Creating a relationship with the athlete makes it easier to invest into them personally, instead of solely investing into their injury. For example, with my rehabilitation project this semester, I know the athlete very well and was previously her teammate. This relationship that I created previously to her injury makes me feel personally invested into her healing process. I want not only her knee to heal, but for her health, both physically and mentally, to be better than it was prior to her ACL tear.

Additionally, I think that it is important to treat the entire person instead of just the injury, especially in the college athletics environment, because of the statistic of athletes with depression. I just returned back from the Fellowship of Christian Athletes - College Advance annual retreat, and many of the testimonies of the athletes there involve depression. Quite a few athletes were only able to come to the retreat because they were injured, and for most of them it is life altering, if only for a season. They explain how they feel useful and powerless because they are not able to do what they have a passion to do. They are a part of a team dynamic, and when an injury occurs, it is stripped from them. They often feel as if they are no longer apart of the team. This can very easily turn down a path of depression and self-destruction. An athletic trainer can be pivotal for the athlete during this healing process. We have the opportunity to be the person that they lean into to share what they're going through and how their mental health is functioning.

Additionally, I feel that it is important to look at the entire athlete physically as well as mentally because other issues have the potential to arise when an athlete is performing rehab for a specific injury. Because the rehab process can be such a strenuous process, other pains may arise throughout other areas of the body that would need attention. By taking care of the entire body, the athlete may feel more cared about and more trust can established between the AT and the athlete

This week, I didn't receive any masteries.
Powered by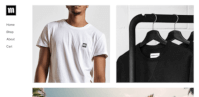 Create your own unique website with customizable templates.