Hopping into my mental time machine gives me a lot of different options. I have been trying especially hard lately to stay present, while also attempting to stay practical in planning. This has been somewhat of a challenge, but I feel like I'm getting better at it. As of this moment, two different options come to mind when I think about my future. I can definitely see myself having gone through graduate school within the next three to four years. I will have graduated from undergrad with an athletic training degree and gone onto a physician's assistant studies program (specifically at University of Colorado or California Baptist College - these are the two main ones on my radar at the moment). I imagine myself working in a hospital setting with a pediatrics specialty. In my wildest dreams, I would like to work at St. Judes or a hospital with a similar cause to work with pediatric oncology. A passion to make a difference in a child's life and his or her family's lives would be my motivating factor to get up and go to work in the mornings. My main goal in my professional life is to do as much as possible to make the greatest positive and beneficial impact on others' lives as I can. Additionally, I imagine that a desire to help provide for my family would push me to get out of bed and encourage me to work hard.

On the other hand, I can see my life being very different from what I just describe. I do have a passion for helping patients in the medical field, but I have a burning passion unlike any other to work in the mission field. I can definitely see myself in the rather near future being a missionary in America. I have a desire to be successful, but I have any more of a desire to honor God with my life and be obedient to the calling He has given me. Right now, I feel a strong push to pour into college-aged women in America because college can be such a dark time for so many people. This could potentially mean not being in a set place and having to travel extremely often. Despite how different these two outcomes may look, I can also see how God could weave them together. There is definitely a ministry through the medical field, and that is something I would be open to if the Lord placed it on my heart.

This week, I have made more connections with some members in the ministry that I am passionate about by travelling to Campobello, SC for a gathering. Additionally, even though it be small, I studied fairly hard for the gen med test we were given. I believe that when we are faithful in the small, we will be faithful in the big. Additionally, this week I have received attempts from Beth's PBL, a safety inspection attempt in the clinic, and attempts from the gen med test in DC's class.

​
Powered by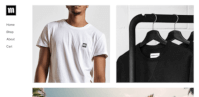 Create your own unique website with customizable templates.