After thinking back to my sophomore year, I wish someone would have told me to just jump right in and ask as many questions as I needed. I wish I would have known earlier that it was okay to not worry about messing up and to just ask for clarity when needed. Therefore, I have been sharing that information with those who are new to the program. I have given them the advice of taking advantage of every opportunity and not waiting until being asked to offer one's help in the clinic. I believe that taking initiative in the clinic setting helps to build confidence and get over the awkwardness of coming up to someone and taking charge of a situation by asking questions. It's always nice to see those who are new in the program helping athletes in the clinic with confidence instead of timidity. Additionally, it's encouraging to me to see them working through hard scenarios in their head or talking it out with another student or preceptor. Their focus makes me want to work harder and be better in the major.

I specifically remember a few older students who went out of their way, and still got out of their way, to offer their help when it is asked for. My mentor, Tori, did a fantastic job at giving me the space I needed to learn on my own, while also being close enough to offer help or guidance when it was needed. I feel like the best thing that Tori did for me in the program was just being a friend. It was very easy to be comfortable around Tori, and she never made anyone feel lesser for asking questions, even if they were "dumb" questions. Additionally, it was always nice to see how hard most of the upperclassmen worked when they were in the clinic, and how they talked excitedly about certain material or a situation in the clinical setting. It was always encouraging to be around people who truly enjoy what they do and how they help others. I hope that once I get back on campus after being off site for so long, that I can bring some of that excitement, friendliness, and openness to the athletic training clinic.

This week I received two attempts from the physical therapy clinic and three more attempts from the PBL that we completed in for clinical class.
Powered by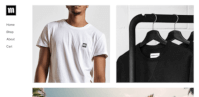 Create your own unique website with customizable templates.