It's hard for me to imagine that I have already been in the program for a year and a half. This semester I plan on hopefully utilizing all the lessons I have learned, but the principal one will be understanding that there is always more going on behind what is on the surface. I hope that this semester I can truly invest into people's lives, while also being there to help them with injuries, rehabs, etc. I would like for athletes to feel like they are going to get quality treatment when I interact with them, but also to feel as if we can work through more than just an injury together. After having the semester I had last year, I more fully understand the importance of having a strong support system. I had no idea how many people were there for me until I went through last semester. I would like to create relationships with the athletes on my rotation that they can be confident in. I can only hope that these girls know that they always have someone in their corner, both for their injury and return to play process and for any other corner of their life where they may need support and someone to have their back.

This semester I would also like to be more intentional about my learning. Last semester, it was hard for me to try to learn anything outside of what was necessary. This spring, I hate to gain my passion for learning back. Because I have a lighter course load this semester, I have a goal to review more and look at the information that I am presented with a little deeper than purely memorizing the material. As the idea of graduation gets more realistic, I am beginning to understand that my learning will soon be placed entirely in my hands, and I will have to take full responsibility and actively seek out learning. I hope that this semester I can really put forth initiative when it comes to my learning.

This week I did not sit down with Melissa to create a packet completion goal, but in the past I tried to split up the number of masteries evenly within the weeks. This has proven a couple times that it is faulty logic. Therefore, I hope to sit down with Melissa this week and potentially look at some of the syllabi from my classes in hopes of breaking down the packet and creating a more manageable completion goal.
Powered by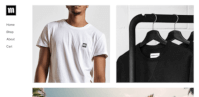 Create your own unique website with customizable templates.