This semester I have been grateful for the progress I have seen. My junior year I really struggled with finding motivation to continue in athletic training with zeal because I knew that this field was not where I wanted to spend the rest of my career. Even though I still want to go to physician assistant school, I have been able to be content this semester. This isn't particularly an example of educational progress; however, this has been the progress that I have been most proud of this semester. As I have mentioned in previous journals, I am very thankful for Cole and Alex for investing into me like they have. In addition to the preceptors I had this semester, I really enjoyed the other students that I was placed with this semester. I feel like they care for athletes similarly to me. They place a lot of emphasis on getting to know the athletes and creating a relationship with them, so it created a fun and fruitful atmosphere in the AT clinic this semester.
​

Outside of gaining some of my passion back for the profession, I feel like I have been able to fine tune some areas of my clinical practice. I have become much more confident in doing my evaluations, and I have been able to grow in understanding what parts of the evaluations are most relevant to the current problem. In retrospect, I feel like it has taken me more time to find the information that I needed to make a diagnosis. Now it is much easier for me to filter through the information that I receive from the athletes to coax the conversation to the areas that I need. I also feel much more comfortable in creating rehabs. This semester, Cole would allow me to look at previous rehabs for an athlete and create a rehab on the spot that would flow well with the previous exercises. This pushed me in terms of my comfort zone, but I know this has definitely made me a better clinician. Additionally, Cole would ask me why I was doing what I was doing, which pushed me to think about the in's and out's of my practice. Overall, I feel like I have been able to not be so high strung in the clinic which I know has been able to relate back to the athletes that I am around.
Powered by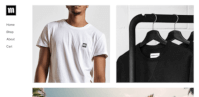 Create your own unique website with customizable templates.