​This rotation was by far my favorite rotation yet. I thought that being able to see everything so clearly was extremely interesting. I spent my entire time in MRI, and the majority of what I saw was brains. The most interesting was a man who was being checked for MS plaques. When looking with Stacy at the images, she explained to me that MS plaques show up as white on the screen that we were looking at. Thankfully, the only plaques that could be seen on these images were two very small places. Once contrast was added for the pictures, we received even better news because the contrast images showed that the MS plaques were inactive. Later on when there was a little bit of a dead period, I was shown old images of a woman in her upper thirties who had two strokes in her lifetime. Stacy explained to me how the colors of the abnormalities change depending on what type of imaging you are observing. So one set of images for this woman showed a huge stroke in the left inferior portion of her brain. After looking at a different set of images with different a different shading code, she soon figured out that what she thought was a massive stroke in the left inferior portion of her brain was actually her old stroke. She was experiencing another stroke in the right superior portion of her brain. I thought it was very interesting how the MRI uses the different colors to tell us about what is going on within the person.

Even though I mostly saw brain scans, I also saw some scans of a shoulder, some knees, and a few lumbar spines. The scan of the shoulder showed what appeared to be a torn supraspinatus tendon. To show me how to find the pathology, the radiology technician showed me a normal scan where I could see where the supraspinatus inserted into the greater tubercle. After seeing the old scans, it was obvious that the supraspinatus tendon was nowhere on the scan. Additionally, there were three people getting scanned for future knee replacements. The technicians explained to me how in depth the process was and how specific the scans needed to be because the company that makes the knee replacements made them custom fit for the patient. Lastly, there was a man that can to get a scan because of chronic back pain. It took a long time to get his scans because he could not quit moving because of his pain. Once he was administered some pain medicine, he was able to lay still long enough to get the MRI. His images showed that he had a bulging disk in his lumbar spine that was causing his pain. Moreover, I thoroughly enjoyed my time in the imaging department and was able to get a better understanding of anatomy through the pictures that I was able to study.

I was at the imaging department on February 14 from 10:00am - 1:00pm and on February 17 from 9:30pm - 12:30pm.

Powered by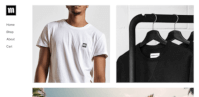 Create your own unique website with customizable templates.