​Now that I am back with my primary preceptor, I realize that a lot has changed since the beginning of the semester. However, I do not believe that the changes are just with the rotation that I am on; I believe that the changes translate throughout all of the rotations with all of the different preceptors. Now that I am almost through all of upper and have complete lower, the expectations of me have risen. I have the opportunity to perform more evaluations now than I did in the beginning of the semester, and I believe my preceptors feel as if they can trust me without having to "hold my hand" per say throughout the entire evaluation.

A tremendous change has occurred regarding rehabs. Now I am entrusted with running many rehabs on my own, whether it is in the weight room or in the clinic. This area is one in particular that I have enjoyed because I love being able to see the athletes back in an athletic atmosphere where they are getting to push themselves to be better. Additionally, Chaypin allowed me to create my first rehab this past week. It made me feel as if she trusted me enough to be able to put one of her athletes in my care. Of course she checked over it and gave me feedback, but being able to create a rehab on my own was a huge milestone for me.

Unfortunately, one thing that has not changed throughout the semester is my confidence in the clinic. My confidence level is about the same as when I started this semester despite the knowledge that I have gained in the past 3-4 months. I feel as if the information that I am learning in the classroom has trouble translating to actual application in the clinic. However, once someone in the clinic explains to me the situation that I am struggling with, I can learn from it and am able to apply it to other situations that are similar.

This week I had approximately 3 attempts this week during our head and face evaluation. A lot of the tests for the head and face section are tests that we have covered before in previous sections, so I am unsure of whether or not we will cover them in class. We participated in a concussion debate in class, so my attempts for this week are lower than normal.

Powered by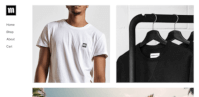 Create your own unique website with customizable templates.